Trane XL16i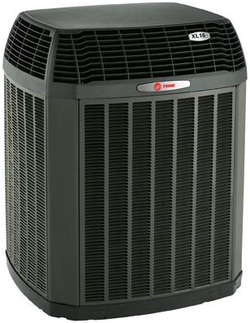 Enhanced cooling meets energy efficiency
Whether it's hot or mild, the Trane XL16i offers flexible family comfort. With two-stage cooling, your home will beat the heat, even in rooms that have proven to be hard to cool in the past.

Efficient performance
The XL16i's SEER (Seasonal Energy Efficiency Ratio) rating of up to 18.5 makes it an energy efficient choice for home comfort.

ComfortLink II Communicating Capability (select models)
ComfortLink II communicating technology (available when select models are matched with communicating outdoor units) connects all of your key components so your system automatically charges, configures and calibrates for optimal performance and efficiency through the lifetime of your products. When the optional Telephone Access Module (TAM) is added, you can conveniently adjust settings and receive system updates wherever you are by phone.

Economical operation
Increased efficiency may substantially lower your home cooling costs.

Two-stage cooling
Two stages of cooling (and heating, if applicable) meet any outdoor climate conditions and prevent interior temperature swings.

Durable construction
Materials for all components are tested again and again for long-lasting performance and reliability.

Cleaner, healthier indoor air
Add Trane CleanEffects™ to your system for advanced air filtration that removes more dust, pollen and other irritants from conditioned air for a cleaner, healthier, more comfortable home.



---
Trane XL16i Features:

Every Trane air conditioner is packed with high-quality components. Each helps ensure that time after time, your unit will provide total comfort your family can rely on. The XL16i includes:
ComfortLink II Communicating Capability (select models)
Climatuff® Staged Scroll Compressor
Full-Side Louvered Panels
Corrosion-resistant Weatherguard™ fasteners
Unique DuraTuff™ non-corrosive basepan
Unique Mounting of Shaft Down Fan Motor
Quick-Sess cabinet with full coil protection
Low sound with advanced fan system and Sound Insulators on Compressors (available on select models)
Trane XL16i Product Information:

MODEL


4TTX6024A
4TTX6036A
4TTX6048A
4TTX6060A

TONS


2 Tons
3 Tons
4 Tons
5 Tons



Cooling Capacity (BTUH)

24,000 BTHU
36,000 BTHU
48,000 BTHU
60,000 BTHU



*Up to 17.5 SEER

Annual Cooling Cost


$470
$710
$950
$1190



Annual Cooling Cost Savings


$430
$630
$840
$1050


*Original Cooling Cost is 50% More or Higher Per Year With An Old System!

Trane XL16i Product Brochure:

3920 Progress Ave. | Naples, FL 34104 | 239-596-5855
AC Lic #CAC1813838 Elec Lic # EC0002113