Trane XR 15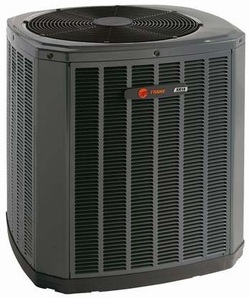 Highest Efficiency Attainable in a Single-Stage System
The new Trane XR15 delivers the reliability you've come to expect from Trane, while providing the energy efficiency you demand and deserve. The XR15, offers up to a 17.00 SEER rating with Trane variable speed furnaces, air handlers and Comfort Coils™. The split system air conditioner is available in 1.5 to 5 ton models.
Efficient performance

The XR15's SEER (Seasonal Energy Efficiency Ratio) rating of up to 17.00 makes it an excellent choice for home comfort and for earning energy-efficiency tax credits.
Energy Star™ ratings (14.5 SEER & 12 EER) with coil only matches for 1.5 – 5 tons.
Federal Tax Credit ratings (16 SEER & 13 EER) for 1.5 - 5 ton models.
Economical operation

Increased energy efficiency may substantially lower your home cooling costs.
Durable construction

Materials for all components are tested again and again for long-lasting performance and reliability.
Cleaner, healthier indoor air

Add Trane CleanEffects™ to your system for advanced air filtration that removes more dust, pollen and other irritants from conditioned air for a cleaner, healthier, more comfortable home.
---
Trane XR15 Features

Every Trane air conditioner is packed with high-quality components. Each helps ensure that time after time, your unit will provide total comfort your family can rely on. The XR15 includes:
Full-Side louvered panels protect your investment
Corrosion-resistant Weatherguard™ fasteners
Unique DuraTuff™ non-corrosive base pan
Quick-Sess cabinet with full coil protection
Sound insulator on the compressor (select models)
Trane XR15 Product Information:

MODEL


4TTR5018E
4TTR5024E
4TTR5030E
4TTR5036E
4TTR5042E
4TTR5048E
4TTR5049E
4TTR5060E
4TTR5061E


TONS


1.5 Tons
2 Tons
2.5 Tons
3 Tons
3.5 Tons
4 Tons
4 Tons
5 Tons
5 Tons


Cooling Capacity (BTUH)

18,000 BTHU
24,000 BTHU
30,000 BTHU
36,000 BTHU
42,000 BTHU
48,000 BTHU
48,000 BTHU
60,000 BTHU
60,000 BTHU




*Up to 16 SEER

Annual Cooling Cost


N/A
$500
$630
$760
$880
$1010
$1010
$1260
$1260


Annual Cooling Cost Savings


N/A
$400
$490
$580
$690
$780
$780
$980
$980


*Original Cooling Cost is 50% More or Higher Per Year With An Old System!

Trane XR15 Product Brochure:

3920 Progress Ave. | Naples, FL 34104 | 239-596-5855
AC Lic #CAC1813838 Elec Lic # EC0002113